So I went to Long & McQuade and tried out the 4 cajons they had in store..
1 TOCA – $170
2 MEINL – $210 & $270(I think)
1 GON BOPS – $230
I tested all 4 cajons they had on the floor and the GON BOPS ALEX ACUÑA SPECIAL EDITION CAJON blew the other three out of the water. Very clear bass and snare notes. While the other three cajons sounded like paper bags of various sizes.
Snare: They all have a similar "plet plet plet" sound (paper bags!). On the Toca and lower line Meinl model the snare sounds is very present even if you hit squarely on the bass chamber.
The Gon Bops model have wires on the corners only and allows you to control the snare sound by playing different parts of the drum, but it's snare sound is also less complex than the others three.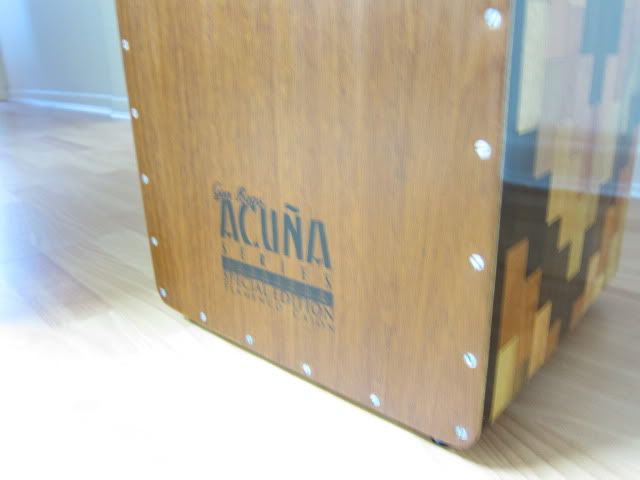 Bass:The Gon Bops has AMAZING bass tone and is really responsive. Noticeable louder, bassier, and rumbles. Here's a short sample I recorded with my Canon IXUS 220:
http://www.youtube.com/watch?v=wmoi3mmAVII
The other 3? Imagine kicking a cardboard box and that's the sound and resonance you get from them.
The Gon Bops is almost like a 14×14 floor tom while the rest are 13×6, to put it in drumset-talk.


Build quality looked similar throughout all 4 models, with the Gon Bops model having a super fancy, nicely lacquered pattern surface.
Just an awesome little thing to play. Highly recommend it for anyone looking for a cajon. It's leaps and bounds better than other models of the same price range.
Here's a another little review about the Gon Bops cajon that tells it quite accurately.
http://www.musicradar.com/gear/all/d…-219304/review
Oh and it's the only cajon out of the 4 that comes with a free bag. Lightly padded, 3 straps, and a zipper pocket to boot, nothing fancy. While a Toca padded bag is a $90 extra.
* update * I've had it for two years now and both the cajon and the bag are holding up fine. Good stuff.